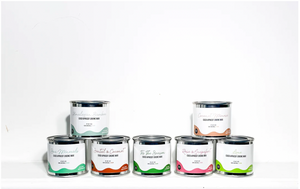 Lavender Latte w/ Oat Milk
If you're a coffee lover, this one is for you! The Lavender Latte w/ Oat Milk Wooden Wick Candle is an ode to our founder, Dr. Candace Patrice, whose favorite coffee order is a Lavender Latte w/ Oat Milk. It's a very pleasant take on our former "Morning Coffee" scent which was always a hit. We're re-igniting our coffee candle collection with our signature Lavender Latte scent--a candle certainly worth a try!
The candle is made of the creamy and silky coconut apricot creme wax, a luxury and vegan wax blend. It burns so silky smooth and settles beautifully after each burn, almost as if the candle was never lit.
 Scent Note Makeup:
Top: Lavender, Jasmine, Floral
Middle: Coconut, Oat, Espresso
Base: Vanilla, Agave, Caramel
Candle Burning Instructions:
• Trim wick to 1/4th inch before lighting (will not need to follow this step upon first lighting the candle.
• Keep the candle free of any foreign materials including matches and wick trimmings.
• Only burn the candle on a level, fire resistant surface.
• Do not burn the candle for more than 2 hrs at a time.
Candle Warning:
• To prevent fire and serious injury:
• Burn candle within sight. Keep away from drafts and vibrations.
• Keep out of reach of children and pets.
• Never burn a candle on or near anything that can catch fire.