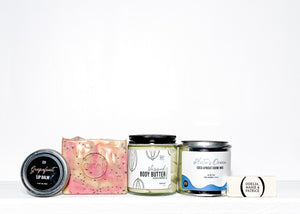 Founder's Favs Box
Hiiiiiiii! :) I'm Candace Parrish, Ph.D., the founder of Odelia, Marie, & Patrice (OMandP), and these are a few of my favorite creations. I get many questions about what folks should try from OMandP first. To that question, I am providing some of my most enjoyed products that can serve as a starter kit of sorts. I love all of our products but some of the feels and scents are very dear to my heart. Here are a few that I enjoy and why:
Coco Raspberry Artisan Soap Bar 

|

 

This is one of the first soap scents I created under our new and unique soap formula. I worked on the formula we all enjoy from OMandP today for about two years. The Coco Raspberry scent coupled with this rich, high-lathering formula is just really soul quenching in my experience. 
Fraser & Coconut Whipped Body Butter 4 oz  

|

 

When I first opened the former OMandP studio in West Chester, PA, I knew I wanted to blend the influences of Orlando (where I revived OMandP) and West Chester (where I opened our first studio space). I blended the tropical coconut scent with a fraser fragrance (a type of tree that is notorious in PA) to create the fragrance marriage I never knew I needed. The feel of the whipped body butter is also a dream. Like the soap, I worked on this recipe for a few years. I really wanted a body butter that didn't just melt to oil, but adhered to your skin and wasn't sticky or greasy. This feel and scent combo forever has a place in my heart.
Grapefruit Nourishing Lip Balm 1 oz 

|

 

Grapefruit is one of those magical scents and flavors that is vibrant but with style–haha. Our lip balm formula is like body butter for your lips so the velvety formula in combination with the grapefruit scent just refreshes my spirit with each application.
Pluto's Ocean Wooden Wick Candle 4 oz 

|

 

Pluto's Ocean was literally the very first candle that I made for OMandP. Today it remains one of the top selling candles we have. It's the ocean scent that meets the woodsy and tropical notes of the fragrance blend that really puts you in a beachy state of mind. Our candles started out with Soy Wax and Cotton Wicks and we eventually evolved to Coco Apricot Creme Wax and Wooden Wicks for a luxurious upgrade and for better burning experiences for both our home and environment. Plus, the wooden wick has a slight crackle when you burn it. <3
OMandP Match Boxes 

|

 

OMG. Did somebody say matches?! Haha. These add the cutest flair to our candles. I (and so many of our tribe members) use these matches for everything. But they also make such cute decor accents. A free match box comes with every candle order (as supplies last) but I definitely suggest buying extra.
OMandP Reusable Bag 

|

 

Listen, we are BIG BIG fans of the environment at OMandP. Thus, it means so much for us to provide reusable options to our customers, both at in-person events and for online orders. With our reusable bags, you can bring OMandP on your journey and let people see our mission in action. #Cheers
What a great gang right?! This set can be ordered via the Founder's Favs Box in our Luxury Body Care section on the site. I hope you enjoy just as much as I do! :)